Once you have reached the Create a team page, you will see various entry fields load up as shown in the picture below: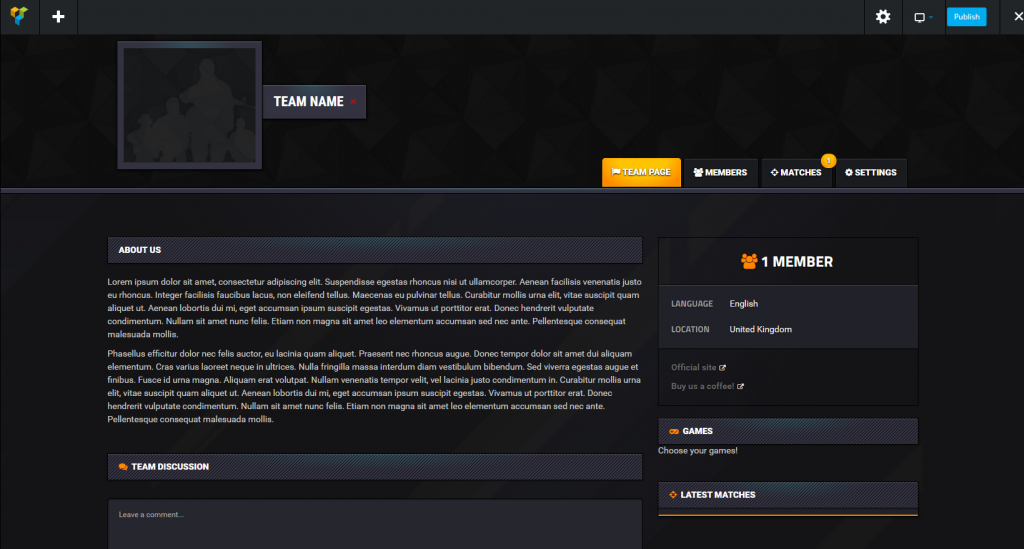 When you hover over a region on the screen, a corresponding Editor menu (green colored rectangle) will pop up.   As a member, you have the option to create and customize your own Team page.  *Over time, we will continue to offer additional features to create a uniquely customizable webpage for your time. 
Important:  For now, please do not worry about the blue and orange rectangles; instead, to get your Team Page up and running, we will be focusing only on the GREEN rectangles (the Edit option).
You are now considered in the platform as a Team Admin for your webpage!
How to enter your team for events
In order to take part in our events, the Team Admin must select from the "Games Block" which games your team plays. The site's functionality will not work if you do not choose one or more games for your team.  To do this scroll over to the green "Games block" Editor menu and click on the pencil icon (see image below).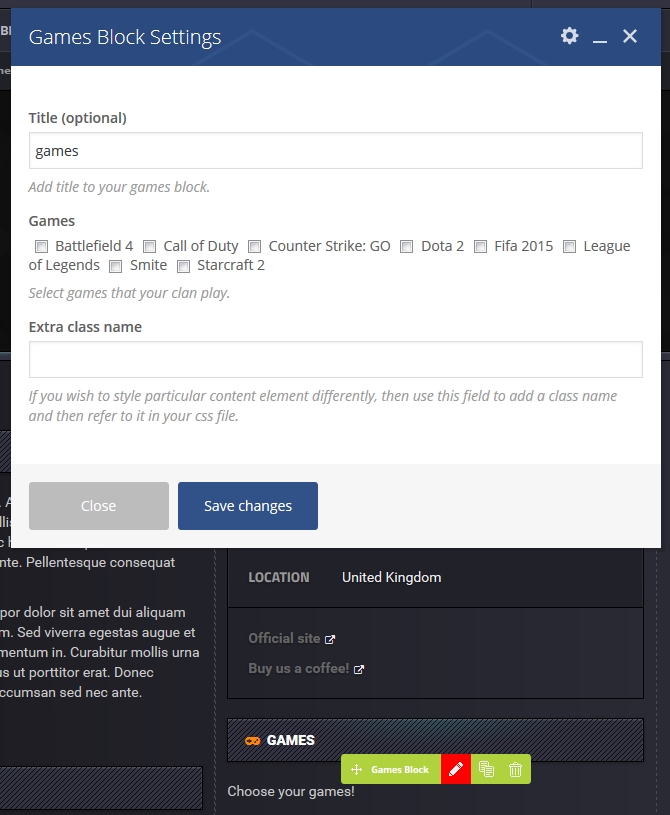 Clicking on the pencil icon will launch a pop-up window called "Games Block Settings" which will allow you to select your games played.
Again, if you do not select any games then nothing will work and your team will not be able to participate in any of our events!
In addition, for now we are asking that you please not enter anything in the 'extra class window' at this time; site admin has included this box for future expansion.
While the list of games is controlled by the site admin, you are more than welcome to change add or remove your team's games over time. 
Also, anyone interested in suggesting additional games is more than welcome to; please contact the site admin to do so.
Saving your settings
After you select which game(s) your team will participate in, be sure to do the following or else your changes will not be stored:
click on "Save changes"

click on "Close"

at the top of the screen you will see a blue "Publish" button.

 

Clicking this will then publish your entries.

Finally, at the top of your screen you can click "Update All" which appears after the Publish is complete. 

We highly recommend that once your edits are done that you exit entirely out of the Edit feature by clicking on the "X" after the Update All feature is completed.
TIPS
Please wait a few seconds whenever you click Save changes, or long enough so that the button returns from green back to blue. 
Closing out before the Save is complete may result in loss of the info you entered.
If you do not see the Save Changes button whenever you edit a block, be sure to click out of the current field, text box, etc., in order to see the save option.
IF you do not see the changes at this point, simply refresh the page.
If you still do not see your changes taking place right away, we recommend you clear your browser's cache and then reload the page.  This almost always fixes things, assuming you have properly saved your edits as described above.
Team page customization
*At present, you can customize the following on your team page:
Team name (you can change your team name as much as you like)

Team avatar (the icon that will be used to identify your team during match challenges etc.)

Team background image (this is displayed exclusively on your team's site)
Over time we will continue to include additional customizable features; the site admin is currently working on expanding the team page template, so stay tuned for updates.